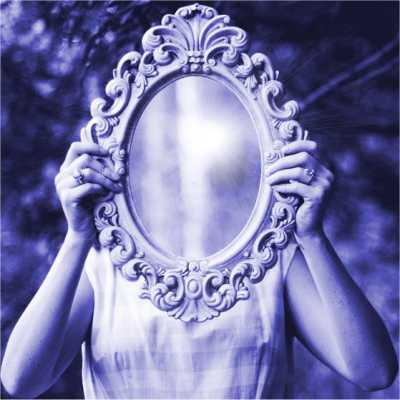 In these strange times of the current crisis, many of us feel that the familiar world of last year has turned upside down. In the sequel to Lewis Caroll's influential novel Alice in Wonderland, called Through the Looking Glass, Alice is astonished to find that she's able to step through a mirror into an alternative world. In the Looking Glass World things are often reversed and upside-down, which makes Alice question her assumptions about what she'd previously considered being normal.
Inspired by Lewis Carroll, in 1902 the American sociologist Charles Horton Cooley developed the concept of The Looking Glass Self, which explores how we shape our identity, based on how we think other people see us. This theory is that we shape our sense of self, not from our own inner viewpoint, but from how we imagine we look to others; how other people may be judging us. Once our sense of self is formed, it becomes self-fulfilling and re-enforced as we conform to how we imagine we're being perceived. One way of exploring this is to consider the differences in your sense of self when you're by yourself, like walking in the woods with your dog, compared to a meeting at work, or busy social situation.  It's interesting that Cooley's work was followed up almost 100 years later when neuroscientists discovered, what are called mirror neurons in the brain, which allow us to model other people's emotions, behaviour and intentions in our own heads.
Just about every human experience brings together two things; there's the objective reality of whatever's happening in the moment and how we interpret and shape the experience through past habits, assumptions, and judgements. So, using the looking glass analogy, the mirror reflects the raw reality of a particular situation, but we look through our own overlay of what we see and believe.
Another interesting test is when you look at your face in the mirror, is the way you see your face the same as a recent photograph or different?
You need to be logged in to access the full content on this page, including the guided practice audios.
---
Follow on
Share on