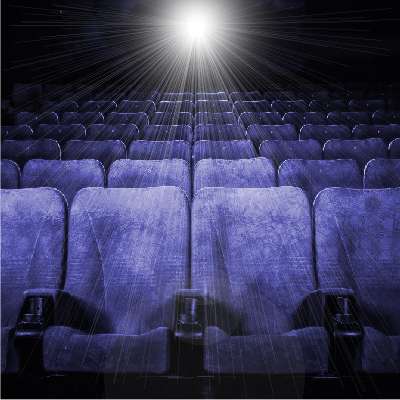 When we see an engaging film at the cinema, we are taken for an experiential ride from beginning to end. If all the elements are brought together in the right way, we suspend disbelief; Spiderman's real and there's a tiger with the boy in the lifeboat. We let go of the fact that we're sitting in a dark cinema, as we're moved by the story and emotional dynamics of the characters. In our heads, it's as if we are a privileged observer in the actual scene. For that moment, however unrealistic, the action on the screen provides a novel, compelling and exciting substitute for our day-to-day experience.
Watching a film is a useful analogy for what happens when our mind wanders. We can be walking along, fully aware of our environment, when all of a sudden, a thought pops up and dominates our attention. Lost in thought, we momentarily disconnect with the richer world around us. In that moment all there is, is the thought and any emotions that it triggers. After a while, we may notice that our mind has wandered and bring ourselves back to being aware of walking, the movement of our body, sounds of traffic and birdsong, and the cool air on our face.
Our minds also operate a bit like a radio station that's always on in the background. The chatter is sometimes engaging and draws us in, and at other times we hardly notice that it's still talking away. In a mindless state, we're not aware that there's the option to turn down the volume, or change channels to focus on the here and now of simply being in this moment.
Thoughts are generated from two main directions. There are top-down thoughts; the "thinking on purpose", about a problem, plan or project, directed from the neo-cortex and executive function of the brain. Then there are bottom-up thoughts that emerge from the senses and emotions from lower down in the brain that inform higher brain functions. The bottom-up mind is faster, more impulsive, intuitive and emotional and always active. It's the bottom-up mind that takes care of habits and for instance, does most of your driving for you. In contrast, the top-down mind is slower, rational and more controlling and takes effort, as it's the part that learns new skills and knowledge.
Similar to the ideas of distinct left and right brain functions, the top-down and bottom-up modes of mind can be extraordinarily powerful and useful. In our society, the top-down tends to be the domain of the technical and scientific, whereas the bottom-up favours artistic and creative thinking. Einstein commented on these modes of mind by saying, "The intuitive mind is a sacred gift and the rational mind is a faithful servant. We have created a society that honors the servant and has forgotten the gift."
So how can we use mindful awareness to make the most of these powerful resources?
Imagine for a moment how amazing it would be if a new generation of smart speaker went on sale with powerful artificial intelligence that could problem-solve, plan and learn, be creative and intuitive and automate your habitual routines? The only downside of this new technology is that it only works properly if you're paying full attention to what it's doing. If you're not on the case, it will produce automatic thoughts that it assumes are useful, but may well be negative, limiting and depleting.
Learning how to make the best use of both of these modes; the speed, creativity, and intuition of the bottom-up together with the clarity, insight and learning from top-down processing brings a range of benefits: for instance, trusting our intuition, undoing unhealthy habit patterns and improving our clarity of thought, which help us to live happier, more productive and easier lives.
---
Guidance
Find somewhere undisturbed and sit in a comfortable, dignified and upright posture, where you can remain alert and aware.
There are two guided practices for this session. You can close your eyes, or lower your gaze while the meditations play.
Play the settling practice, then read through the session content, which you can print off if that helps.
Then play the second practice to explore the bottom-up and top-down modes of mind.
Suggested weekly practice
Notice automatic thoughts with curiosity, seeing if you can label or classify them as they arise: "planning", "rehearsing a conversation", "to-do reminder", "fantasising", "criticising", etc.
Explore the relationship between feelings and thoughts in your own experience. What comes first – a thought or a feeling? Are there thoughts without any feelings? Are there feelings with thoughts?
Appreciate and have faith in just how amazing your top-down thinking can be. For instance, the ability to call on knowledge and experience that you generate in real-time as a skilful response for a particular situation.
---
Share on
Follow on