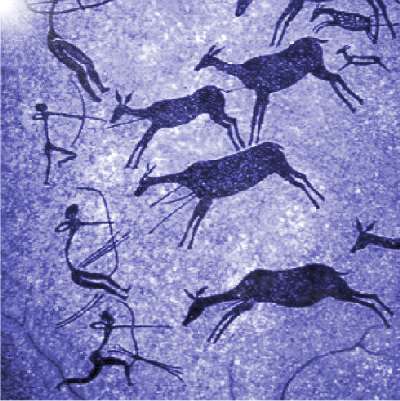 The question, "When did humans start to think?" is difficult to answer. Based on evidence from cave art and jewellery, most modern anthropologists agree that symbolic thinking evolved before the first Homo Sapiens walked on the savannah around two hundred thousand years ago. Our ancestors developed language as a way of communicating with each other so that they could achieve more as a group. Similar to learning a new language today, a verbalised sound became associated with an object to share and communicate meaning. Over time the sounds and images became internalised in the form of thoughts. Our ability to represent and explore the world using symbolic thought provided a significant evolutionary advantage and has led to the world we inhabit today.
Our minds develop by making sense of our environment, which includes the tangible, physical world as well as intangible information and knowledge. Similar to the phrase, "You are what you eat", our mind becomes what we feed it. So, if we have a mental diet that's the equivalent of fast food, our thinking will be a bit limited. The same goes for the quality of thoughts we entertain. As well as structuring around input from the environment, the brain also builds pathways from what we pay attention to. Like the cow paths on a hillside farm, where one cow follows another until a well-trodden route develops, the neural pathways in our brain form around repeated use, which become automatic habit patterns.  The more we entertain negative thoughts, for instance about our low self-worth, the more thoughts of this quality will arise.  After all, our mind is simply doing its best to serve us with what we most frequently focus our attention on, in other words, what we like. Similar to a smart speaker voice assistant, but in this case with Alexa or Siri acting as our inner critic.
Thoughts can emerge from a range of sources: they can arise in response to a previous thought; be stimulated by an emotional reaction; from an event or object perceived through our senses, or from physical sensations in the body.
---
Share on
Follow on