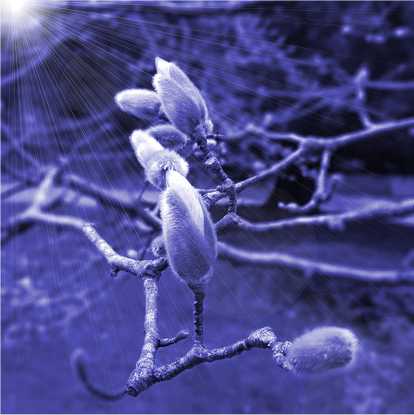 As seasons change from winter to spring, we start to see the natural renewal and growth in nature, as delicate tree blossoms, buds, and bulbs appear, as if from nowhere. This reminds us of the underlying rhythm and wondrous possibilities of life that lie beneath the surface of the world around us. Even when there are forest fires and volcanic eruptions, nature eventually returns and renews itself. 
Parts of our bodies go through a similar cyclical renewal; the cells in our stomach lining are replaced every five days and red blood cells every four months. There are around 10 trillion cells in the human body, many of which renew at different rates and some that never replace themselves, including neurons in the brain's neocortex.  
As humans, we have a tendency to set ourselves aside from nature. The fact is that we are as much a part of nature as anything else on the planet and are subject to the same cycles and universal laws. As the British philosopher Alan Watts put it, "You didn't come into this world. You came out of it, like a wave from the ocean. You are not a stranger here." For those of us who live in temperate climates with changing seasons, during the winter we take refuge from the cold and dark days and as spring emerges, begin to feel greater vitality and aliveness. Every day of our life goes through its lifecycle of waking, activity, and then sleeping, from dawn to dusk. Every breath we take is a renewal of fresh energy into the body. The Greek philosopher Heraclitus said, "No man ever steps in the same river twice, for it's not the same river and he's not the same man."
You need to be logged in to access the full content on this page, including the guided practice audios.
---
Share on