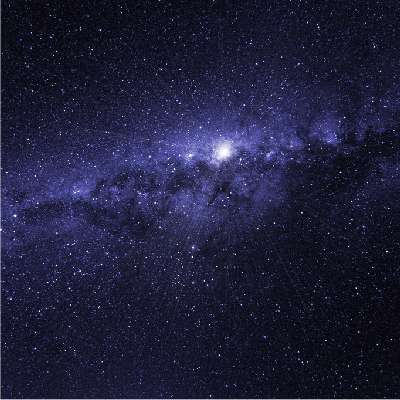 In the 1985 film Back to the Future, the seventeen-year-old Marty McFly is sent back thirty years in a time machine made from a DeLorean car.  Marty meets his mother in 1955, who falls in love with him, rather than with his father, which threatens to cause a paradox that would result in Marty ceasing to exist. Later in the film, Marty successfully travels back to 1985. Although there have been many films and books like this, whether it's possible to travel in time is open to debate. Some physicists say that it's theoretically possible to travel into the future, but not into the past. One interesting challenge is that although the earth orbits the sun, our solar system orbits the centre of our galaxy, the Milky Way, which is moving through space at over a million miles an hour. So even if you could travel in time and wanted to remain on earth, you'd also need to travel across space as well.
Of course, we all already travel in time, the flowing moment of experience. We are a year away from this day last year and are moving forward at a rate of 60 seconds per minute. There's also another kind of time-travel that's possible, which is when we access past memories, or imagine what might happen in the future, in our heads.
Our ability to recall the past is dependent on episodic memory, which uses the same networks in the brain that simulate future events. Thinking about the past and future is something we all do and is a natural process for the brain to engage in. The ability to imagine future scenarios provided an important evolutionary advantage for humans. One of the main purposes of the evolving brain was to anticipate threats in the environment, which remains a primary process today. And it's not just thinking that's involved; when we explore future situations, we can also get a sense of how we would feel emotionally in the future. This gives us the power to adapt our approach as we encounter the actual situation.
You need to be logged in to access the full content on this page, including the guided practice audios.
---
Guidance
Find somewhere undisturbed and sit in a comfortable, dignified and upright posture, where you can remain alert and aware.
There are two guided practices for this session. You can close your eyes, or lower your gaze while the meditations play.
Play the first settling practice, then read through the session content, which you can print off if that helps.
Then play the second practice to explore mental time-travel, as well as the difference between thinking about the past and future and present-moment awareness.

 

 
[/private]
---
Share on