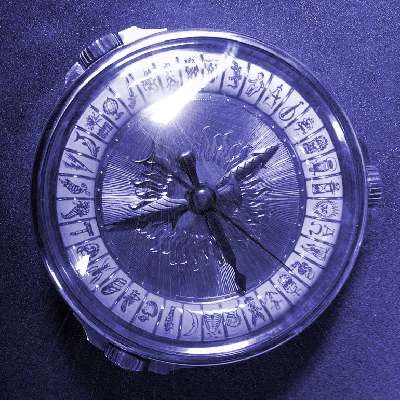 In Philip Pullman's His Dark Materials trilogy the main character, Lyra, is given a special instrument called a golden compass, or alethiometer. This intricate device can answer any question formed in the mind of the user, including what will happen in the future.  Rather than point North, the compass directs the user to the truth, as its hands move across 36 symbols on the face of the instrument. The challenge is that it takes years of study to understand how to read the alethiometer and interpret its answers.  After practising, Lyra finds that she has a special gift of interpreting the instrument, using her innate intuition and wisdom, which gives her special powers.
Similar to the alethiometer in this story, we all explore future possibilities and want to find the truth about people and situations that affect us. Although we can't see the actual future, we make decisions and choose options. While some choices may work out well, others may be impulsive and could lead to future difficulties. For instance, we agree to have another few drinks and wake up the next morning with a hangover. At the other end of the scale, we may have started relationships that were not good for us or made other choices in our lives that we later regretted. 
When we reflect on times of difficulty, we may find that we were a bit oblivious to our gut feelings and intuition and not aware enough of what we were getting into. Even though we go through years of formal education, there's no comprehensive manual for being human; although we do our best, we can easily make mistakes and sometimes head off in the wrong direction.
You need to be logged in to access the full content on this page, including the guided practice audios.
---
Share on