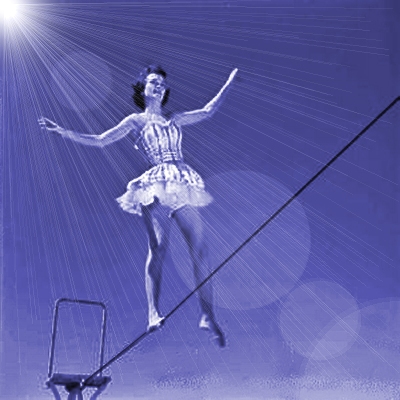 The "new normal" of our work-lives is keeping many plates spinning, managing the information deluge, juggling different activities to meet deadlines, ducking and diving around local politics, all while maintaining performance and productive working relationships. It all sounds like a bit of a circus act…
Everything's fine if you're managing to surf the wave, but if you're tipped off balance and pulled under by the turbulence, you can take on some serious stress. It's interesting to observe how professional balancers, like tightrope walkers, or surfers, achieve what looks like a smooth and unwavering skill. When you look closely at how they maintain stability, they're making a lot of very small micro-adjustments, as they skilfully respond to feedback in the moment. You can try this at home by balancing on one leg for a minute. You'll notice that your body is almost constantly adjusting to maintain balance. We tend to lose our balance when we sense a movement in one direction and over-compensate in the other.
We can lose stability when we're stressed or caught up in strong emotions like anger, anxiety and sadness. Instead of spinning plates, it's our heads that spin, full of mental and emotional noise and movement. We find it hard to concentrate and focus attention and have no space to think clearly like a small boat tossed around in a storm. Ironically, when we're in a state like this we often don't have the head space to get out of it.
So how does mindfulness help when we encounter turbulence in our lives? 
---
Share on
Follow on