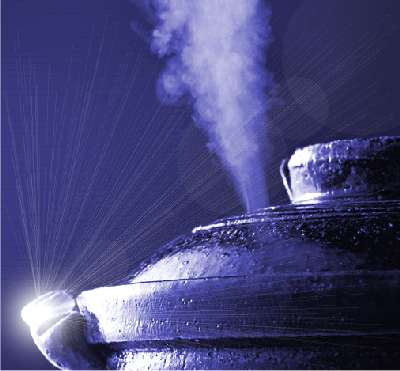 Equilibrium can refer to balance, but also to different states being equalised.  For instance, the cabin pressure of an aircraft is much greater when cruising at altitude than the air outside, where the air is too thin to breathe.  Although the Earth's atmosphere is about 300 miles high, most of the air is in the lowest few thousand feet closest to the surface. In fact, there are 14.7 pounds per square inch of pressure in the atmosphere at sea level, which allows us to breathe normally.  As the aircraft descends, the difference between the cabin and atmospheric pressure outside becomes equalized; so that when we exit the aircraft, we don't notice the difference.
Other examples of managing the equilibrium of different environments are when divers need to take decompression stops as they ascend from depth, and space-walking astronauts who spend a day in an airlock chamber acclimatizing their bodies, before opening the door and walking in space.
In a similar way, we can all experience internal pressure when we're feeling stressed or anxious. This can be through physical tension and muscle tightness in our body; agitation and restless thoughts in our mind, and emotionally, with unsettling and turbulent feelings.
Sometimes we're faced with challenging situations which we have no power to directly influence or resolve.  We can find ourselves in a pressurized personal bubble, feeling as if we need to let off steam, but without an outlet.  Like a forgotten pressure cooker whistling in the dark, when we're in this state we can become irritable, intolerant and heated; not a comfortable place to be. And when we experience this level of stress, we're more likely to look in the wrong places for a solution, or quick fix.
So, when you're feeling under pressure, how can mindfulness skills help you to discover equilibrium?
---
Share on
Follow on